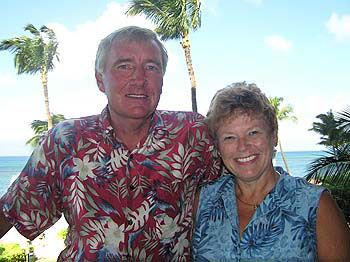 Your Hosts -- Jim & Sue Keithahn



(2023 update: Sue recently passed away of complications from pancreatic cancer surgery. As tragic as her passing was, we had 40 wonderful years of marriage together. Sue always loved the picture above so I have decided to keep the picture and all of the written information below. I continue to do my very best to maintain the condos in the very same spirit tht Sue and I were always strongly committed to.)

Our Maui Homes

We took our first trip to Hawaii for our honeymoon in 1982, and we fell in love with Maui. After several annual visits we decided to purchase a Maui condo so that we had a place to call home for our return visits. In 1986 we purchased unit #307 at The Valley Isle Resort, totally redecorated it, and placed it in a vacation rental program. After many years of personal enjoyment and very good rental experience, we also purchased unit #1009 in 1997.

We take great pride in decorating and maintaining both condos, and we try to give them our own personal touch. We know how important it is to us to have all the comforts of home while we are on vacation, and we try to provide that same experience for our rental guests.



Who Are We?



Both of us have lived our entire lives in Minnesota. We both had long computer related careers with a large Twin Cities based insurance conglomerate. When the company offered an early retirement option in late 1992, we took advantage of the opportunity and retired from the working world. We continue to live in Minnesota, and never have any trouble finding ways to fill our retirement hours.

We have four grown sons, all in their forties. The oldest lives in Vero Beach, FL with his wife and 2 children. The next oldest lives in Seattle with two children. Third in line lives in the Twin Cities area and is married with no children, and the youngest lives in the Franklin, MA with his wife and 3 children.

We spend much time traveling, to the West and East Coasts to visit our kids and grandkids, and to Maui at least twice a year for a month or so at a time to enjoy and to maintain our condos. We enjoy traveling and our travels to foreign countries include China, Russia, Germany, Switzerland and Austria, Italy and surrounding countries(Mediterranean Cruise), New Zealand, and Australia, South Africa, England, Wales, Ireland and Scotland.


Jim Keithahn
22420 Evergreen Circle
Forest Lake, MN 55025
(651) 431-8871